HARVESTERS, ROYALS TRY TO KNOCK OUT HUNGER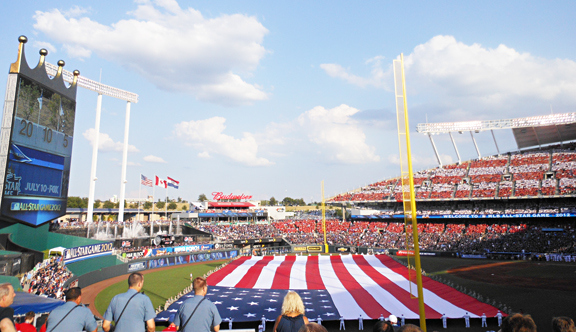 Either at the ballpark or on T.V., we've all watched our favorite baseball players smack towering blasts through the bright blue skyline and just wished once that we could do the same.
Well, here is your chance. On Friday, Nov. 8, and Saturday, Nov. 9, Harvesters and the Kansas City Royals are hosting the second annual Home Runs for Hunger event at Kauffman Stadium. The premise is simple. Fans who donate canned food items or make a cash donation to Harvesters will have the opportunity to take batting practice on the field and shag fly balls in the outfield.
Fans can secure one swing against a pitching machine on the Kauffman Stadium field by donating three non-perishable canned food items or by making a $2 contribution. There will be a maximum of 10 pitches per participant. Batters will be entered into a drawing for autographed memorabilia for each home run hit.
Fans will also have the opportunity to shag fly balls in the outfield for 15 minutes by donating $25. Participants are responsible for bringing their own gloves for outfield shagging. The Royals will provide bats, baseballs and helmets for the event.
Event times, which are subject to change due to weather complications, are noon to 5 p.m. Friday and 11 a.m. to 4 p.m. on Saturday.
Also, please note that children must be 48 inches or taller to participate and that children under the age of 17 will need a waiver signed by a parent or guardian.