I woke up this morning with food in my fridge, clothes on my back and a place to sleep with a roof over my head. This makes me wealthier than 90 percent of people in the world.
I think about that statistic all of the time. Every day I hear friends and family complain about this or that, and as much as I try not to, I do the same. Our everyday "struggles" seem so minuscule to real problems that people face such as homelessness, food insecurity, warm clothes and unemployment. However, we can help solve these real problems through volunteering and helping out in the community.
"There is no exercise better for the heart than reaching down and lifting people up." – John Holmes
The definition of kindness according to OxfordDictionaries.com is "the quality of being friendly, generous, and considerate". It seems so simple, right? It is, yet people still choose otherwise.
In these first 18 years of my life, I was handed basically everything I wanted. My family spoiled me day in and day out, working as hard as they could so I could have a successful life. They were more than kind and fortunately, taught me how to do the same.
One of the first impacts I was able to make was when my mom got me involved during the 2015 holiday season. I was able to help out single-parent families in my community through Uplift. With my mom's help, I donated food, toys and clothing items and though I wasn't able to see the direct impact, it warmed my heart knowing I did something for those who had less.
Hearing about how other families struggled with providing basic necessities for their children made me realize just how fortunate I was. I wanted to help in any way possible.
This past holiday season, I created homeless gift bags full of small meals and nutritional snacks. I gave these bags out whenever I came across someone on the side of the road. It was a small gesture, but something I truly cared about. No matter how small the impact, it could mean the world to someone else.
Through the Northland CAPS program, I was given the opportunity to intern with numerous companies in Kansas City this year. However, when Brent Lager came in to present to my class last fall, my mind was set on Uncover KC. His mission was real and authentic. It was something I definitely wanted to be a part of every day.
To be able to help connect organizations with people who want to volunteer is the kind of act that has my name written all over it. Uncover KC gives me the chance to help out others while also becoming the person I want to be.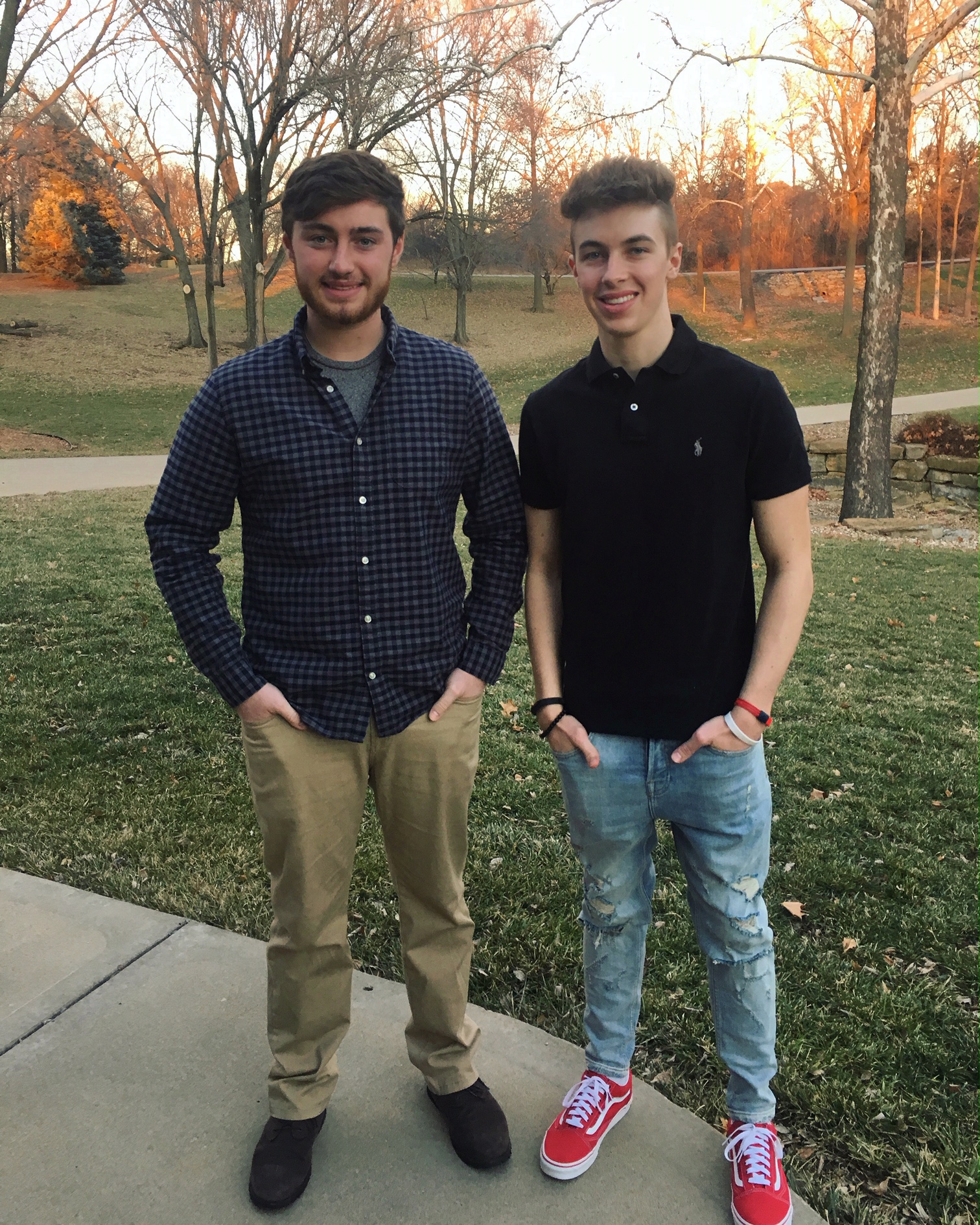 Dawson Owen, right, with his brother Tanner Owen. Dawson is Uncover KC's spring intern for 2019, courtesy of Northland CAPS.