GROUPS ARE VITAL FOR OUR SUCCESS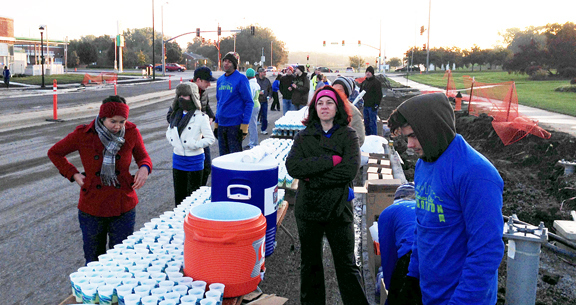 Since we started this movement last summer, recruiting groups has always been the goal. From schools to churches to civic clubs, we believe in the power of numbers.
The theory is simple — people are more inclined to volunteer when they are doing it with someone they know.
"It starts with an idea, then action and finally commitment."
It's like positive peer pressure. When a new volunteer steps out of their comfort zone and into a soup kitchen or homeless shelter, the experience is often easier and more beneficial if shared. The notion also improves a volunteer's accountability and enthusiasm.
For all the reasons listed above, and a few other organizational rationales, we try to target local groups as much as possible. Case in point, we have reached out to area high schools like Park Hill South and Oak Park and contacted every club, athletic squad and group available.
We are casting a wide net, hoping to land a few from each school and then building up our network from there. Currently, we use the same models for every sector of the community. However, we need help.
The biggest issue we are facing right now is getting the message out. Therefore whether by mouth, phone, email or social media, we need help. That is where you come into play — please share our message.
When you see our content on Facebook, Twitter and/or Instagram, please share. When you receive an email update or text message, please share. If you know any groups or leaders that would be interested in volunteering, please share.
This is a grassroots movement, which is the only way it can be sustainable, and you are part of that. Every time you go out and volunteer or spread the word about the Call, you are helping make Kansas City into a better place.
It starts with an idea, then action and finally commitment. Thank you for your dedication towards creating a better world for others.