Gear up for #GivingTuesday
Celebrate #GivingTuesday with Us
Last week we told you what #GivingTuesday is all about. This week we are here to tell you how you can give to The Call KC on November 29. First, we want to let you know exactly where your money will be used.
Everything The Call KC raises this #GivingTuesday will be put towards education initiatives. Each year The Call KC partners up with local schools and organizations to teach children what it looks like to make service a way of life. If service and volunteering is introduced at a young age, children will grow up seeing that part of their lives as a necessity. It doesn't seem like a sacrifice, it's just a part of how they choose to live.
Educating Future Generations
These programs always look different. Sometimes it's a day of service with a school. Sometimes kids learn about an important social issue and how it affects a community, an issue such as homelessness. After learning about homelessness, the kids are then given the opportunity to volunteer at a homeless shelter. This would be a similar case with issues such as domestic violence, environmental concerns, etc.
The Call KC is passionate about investing in younger generations in order to foster a service oriented and giving community. In order to fund these programs, initiatives like #GivingTuesday are important. Learn more about The Call KC's educational programs here.
If you're interested in giving, please visit our Support the Cause page and check out the different ways The Call KC gives back to the Kansas City community.
Start Now
As we gear up for November 29, here are some ways to prepare to give more, give smarter and give greater:
Share your "The Call KC Story" on social media. How did you get involved with The Call KC? Or why do you believe in educating youth through service learning? Why are you passionate about Kansas City communities? Share your story and be heard. Be sure to use #GivingTuesday, #thecallkc #volunteerlife and #kclove in your post.
 
Cut one coffee or lunch/dinner purchase each week. Put that money aside to grow your #GivingTuesday The Call KC donation.
 
Keep #GivingTuesday at the forefront of your mind as the holidays draw near. Try to grow your giving spirit rather than your spending spirit.
 
Set personal spending limits for Black Friday and Cyber Monday to ensure your giving capabilities for #GivingTuesday
If Kansas City is ready to ban together for good on November 29, it will have a significant impact on the community. Start planning now for #GivingTuesday. Give more, give smarter and give greater this holiday season.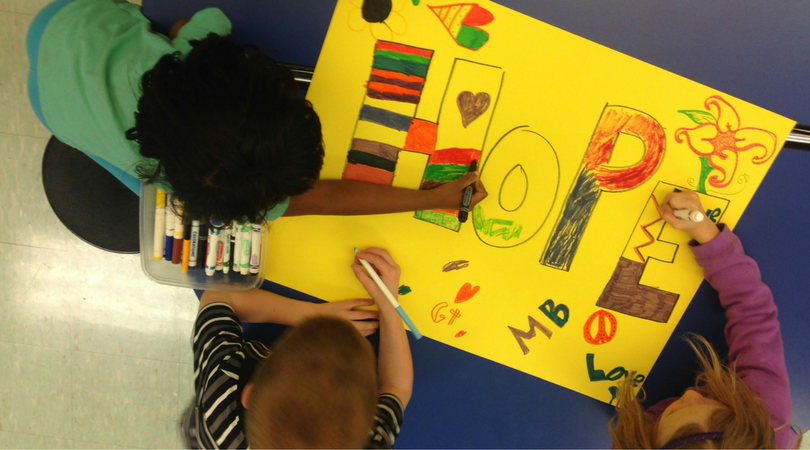 Photo Courtesy of Overland Trails Elementary