ENJOY COLLEGE BASKETBALL MADNESS, SAVE YOUR NONPROFIT MONEY
With our sister organization introducing it's monthly promo last week, VolunteerMark's March Madness, we wanted to help spread the word.
Real simple. If you love college basketball and volunteering, pass this information along to your favorite nonprofits. We are pretty sure they will fall in love with the volunteer management technology the software company offers.
Anyhow, below is the complete press release for VolunteerMark's March Madness, which will last until the end of the month.
ENJOY MAYHEM OF COLLEGE BASKETBALL AND SAVE YOUR NONPROFIT MONEY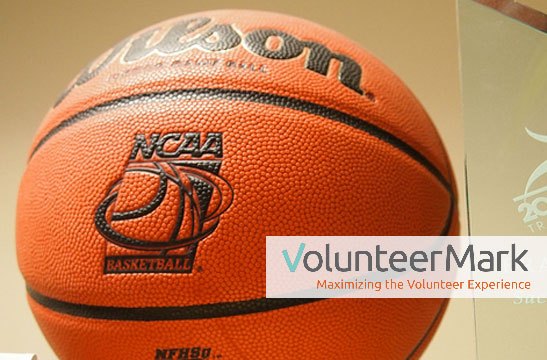 We are mere weeks away from one of the country's most entertaining sporting events of the year — the NCAA Men's Division I College Basketball Tournament.
And with the excitement creeping ever so close to its usual heart pounding fun, VolunteerMark wants to get into the action. More like get into the madness.
With that in mind, the volunteer management software company is putting on a bracket competition for its newest customers — VolunteerMark's March Madness. Pick the right team and you could win up to 35 percent off, $300 worth of savings, a yearlong subscription.
"We are huge basketball fans here and we know a lot of other people are too, so it's fun to combine the passions," VolunteerMark CEO Andrew Stanley said. "Honestly, I'm excited to see who ends up with the best pick."
The rules are fairly straightforward. Any new VolunteerMark customer in the month of March will receive the opportunity to select a team from the field of 68 in this year NCAA Men's Division I College Basketball Tournament. For each win a customer's team records, that organization will receive five percent off its yearlong subscription. Customers must have a yearlong subscription to receive any discounts.
Also, only one team per organization and one organization per team — first come, first serve.
Brackets will be released on March 16, at which time VolunteerMark will go through the selection process with qualified participants. If an organization signs on after the tournament has started, March 18, they can still participate by picking a team remaining in the field that hasn't been picked by someone else.
Thus, the sooner a customer signs up and selects a team, the more opportunity it has at a larger discount. There is a possibility of 6 to 7 wins for any given squad in the tournament, which could equal up to 30-35 percent off and $300 worth of savings.
Cutoff date to select a team is March 30, the weekend before the Final Four.
For more information about VolunteerMark's March Madness, contact Brent Lager at [email protected] or 877-551-5250 ext. 2.