Why Sadie Wiechmann Cares
It felt below freezing outside. I could not feel my fingers — I could not feel my toes, but my heart was warm and happy. It was an experience unlike any other, and it was then that I began to see a purpose in my life.
I started volunteering when I was a teenager. From face-painting at elementary school carnivals to working with people with special needs to feeding the homeless, it has always been an important part of my life. I never knew quite how big of an impact it had on me, however, until I graduated from The University of Kansas with a degree in journalism. I still had no idea what I wanted to do. I worked various jobs, but I felt more lost than ever.
Then one night, I had an opportunity to volunteer with Uplift Organization, a non-profit homeless outreach organization in Kansas City. I arrived at the Uplift warehouse, where we stocked three vans full of food and personal hygiene products for survival during the cold winter months. Once the vans were packed, we hopped in and started on our routes. Each van had a specific route (East, West and Central KC), with assigned stopping points along the way. At each stop we passed out hot soup, hot chocolate and personal hygiene items for homeless individuals.
It was one of the greatest volunteering experiences I have ever had. Interacting with all the people and hearing their stories was very humbling. The individuals we served were so friendly—they never complained about not getting enough, and they never took more than they needed.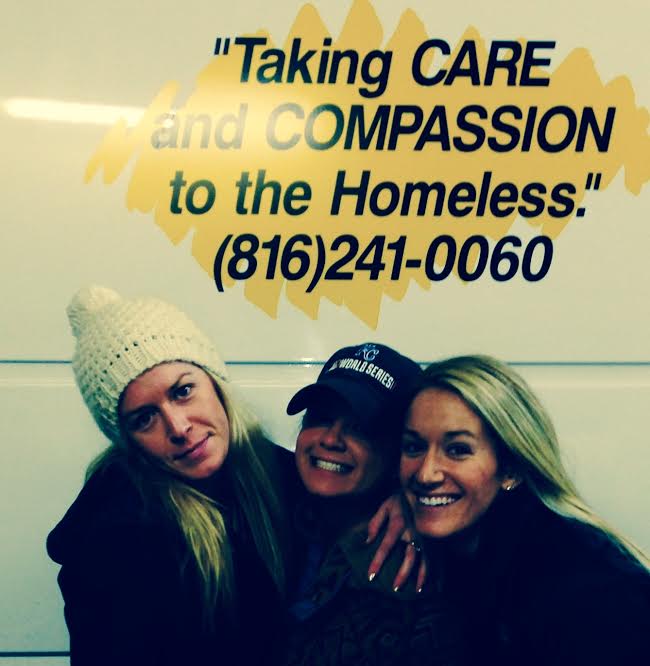 Pictured above : Sadie Wiechmann (left) with her friend and sister at Uplift.
This feeling has fueled me to continue volunteering today and has now become something I see as irreplaceable in my life. While I still have no idea what I "want to do when I grow up," I feel an obligation to do my best to help others and contribute to society in any way I can. I also feel that my love and compassion for others are strengths that are especially applicable to service, and volunteering my time is the best way I can satisfy this calling. I think that serving the community has been a building block for who I am now and where I will end up in the future. I am so excited to join The Call KC and share the movement with others.
The Call KC was introduced to me by a good friend, who is also very passionate about serving our community. It particularly stood out to me because I have had a hard time finding volunteer opportunities, and I felt like I was not able to serve the community like I wanted. The Call KC provides that easy link to volunteering, which means more volunteers AND more people helped.
I joined the movement and you can too!